Penzance and the South-Eastern part of Cornwall is one of the most beautiful areas in the United Kingdom. Famous for its beautiful coastline, this part of the English coast remains wildly popular for holiday goers who are after a family-friendly beach vacation.
Below is our guide to visiting Penzance and the surrounding area of southeast Cornwall! In it, we share the best sites to see, where to eat, and stay so that you can plan the ultimate beach holiday in the UK.
Lantic Bay
Located in South East Cornwall, Lantic Bay is definitely one of the prettiest beaches we visited on our trip to the coast. A quiet sheltered cove, with nice white sand it is the perfect place to stop and swim especially on a hot day!
Lantic Bay is about 2 hours via car from the centre of Penzance, however, it is still along the South East Coast of Cornwall, which is why we included it in this guide. On your way down to the tip of the coast, we definitely recommend you take the time to stop off at this bay!
Pedn Vounder & Porthcurno Beach
These two beaches are a MUST visit. Located right next to each other, you can easily walk from one to the next during the day. Out of the two, Pedn Vounder was definitely less crowded and in our opinion a bit more charming. Nevertheless, both are beautiful with crystal clear water and warm sand.
NOTE: Getting down onto the beach is not for the faint of heart. The hike itself isn't very difficult, but be prepared to climb down a pretty steep rock with no ladder, or stairs to finally reach the beach. Also if you are there towards the end of the day, be sure to keep an eye out for the tide if it gets too high you won't be able to leave!
Kynance Cove is absolutely stunning and makes for another wonderful stop if you have the time. It is best to visit on a calm day, with less wind as it is a tidal beach. Thus, if the wind picks up it can be blustery. Kynance Cove is perfect for adventure travellers because, at low tide, you can explore the caves and islands surrounding the cove. 
NOTE: Be sure to arrive before 11 am, as the car park tends to fill up rather quickly. Additionally, be wary of the tides and currents. Once again, if you visit on a cooler, windy day the beach below can be dangerous.
This beautiful tidal island is located just offshore from Marazion in St Mounts Bay. At low tide, the causeway is exposed allowing for foot traffic to and from the island. This stunning island is a sight to behold if you are in the area! Be sure to book tickets to the island ahead of time if you wish to explore it up close!
Lands End
The Lands End Landmark is an iconic stop for anyone visiting Cornwall. Located at the westernmost point of Cornwall this popular attraction had sweeping ocean views and beautiful scenery. Once you are here, you are at the tip of England.
Minack Theater
This stunning open-air theatre is carved into the granite cliff, with incredible panoramic views of Porthcurno bay. Oftentimes they hold concerts and plays here and it makes for a memorable show. Guests can book tickets to walk around the grounds of the theatre along with the neighbouring gardens. The theatre reminded us of an ancient Greek settlement and was truly remarkable.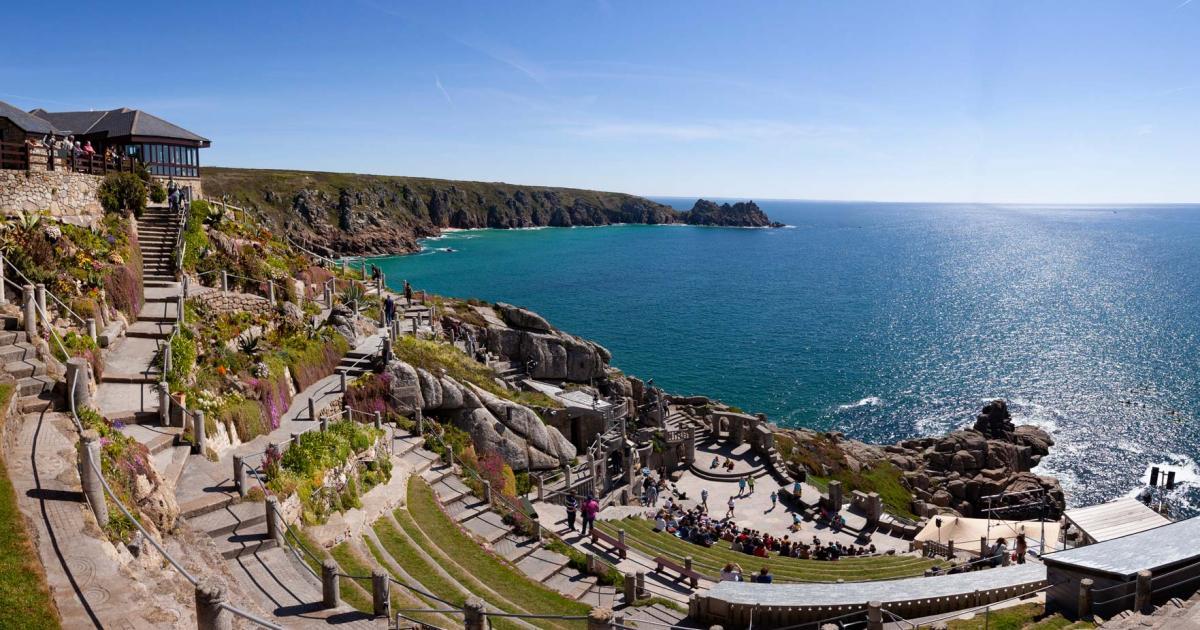 Food & Drink In Penzance & South East Cornwall
Philps Cornish Pasty
This pasty shop is just across the way from St Michael's Mount. We actually stopped here for a late lunch and we were super impressed with the quality and size of these pasties! I mean…what is a trip to Cornwall without trying the famous Cornish Pasty?
The Old Coastguard
If you are in the search for a bit of a treat, definitely reserve a table at The Old Coastguard for a lovely lunch or dinner. The menu itself features a wide selection and pairing of various seafood items. Cod, mussels, sashimi, and prawns!
The Shore
The Shore is a stunning restaurant that serves a set seafood menu year-round. Combining fresh local produce with the fresh catch of the day. We had heard phenomenal things about this place and although it was closed when we visited it is definitely on our list for our next visit!
Hotels in Penzance & South East Cornwall
Mount Haven Hotel
Located just feet away from the infamous Marazion Beach, with incredible rooftop views of St Michael's Mount, the Mount Haven Hotel is the perfect place to stay if you are looking to be central! 
Venton Vean
An affordable boutique B&B. Venton Vean was built out of an old restored period house!
Dog-friendly boutique hotel with a whole lot of charm! The rooms here are decorated beautifully! The clubhouse downstairs is the perfect place to grab a bite and to work if you are a digital nomad on the road. Click Here for avalibility.
This stunning Cornwall Manor House, now B&B is a beautiful place to stay if you are in Penzance. For Avalibility Click Here.
Camilla House is a wonderful guest house option for those looking for a cosy, and comfortable option. With only 8 bedrooms, it is a smaller property, but perfect because each room has been decorated with attention to detail. For avalability Click Here.
The location of the Ship Inn is what sells this place! Located right on the harbour you can wake up to the views of the water and sound of the sea. With a wonderful restaurant and bar below, it is a great one stop shop to a comfortable stay in Penzance. For avalibility Click Here.
St Michaels Resort
Stunning 4-star hotel located in Falmouth. It is a stunning property with gardens and sea views.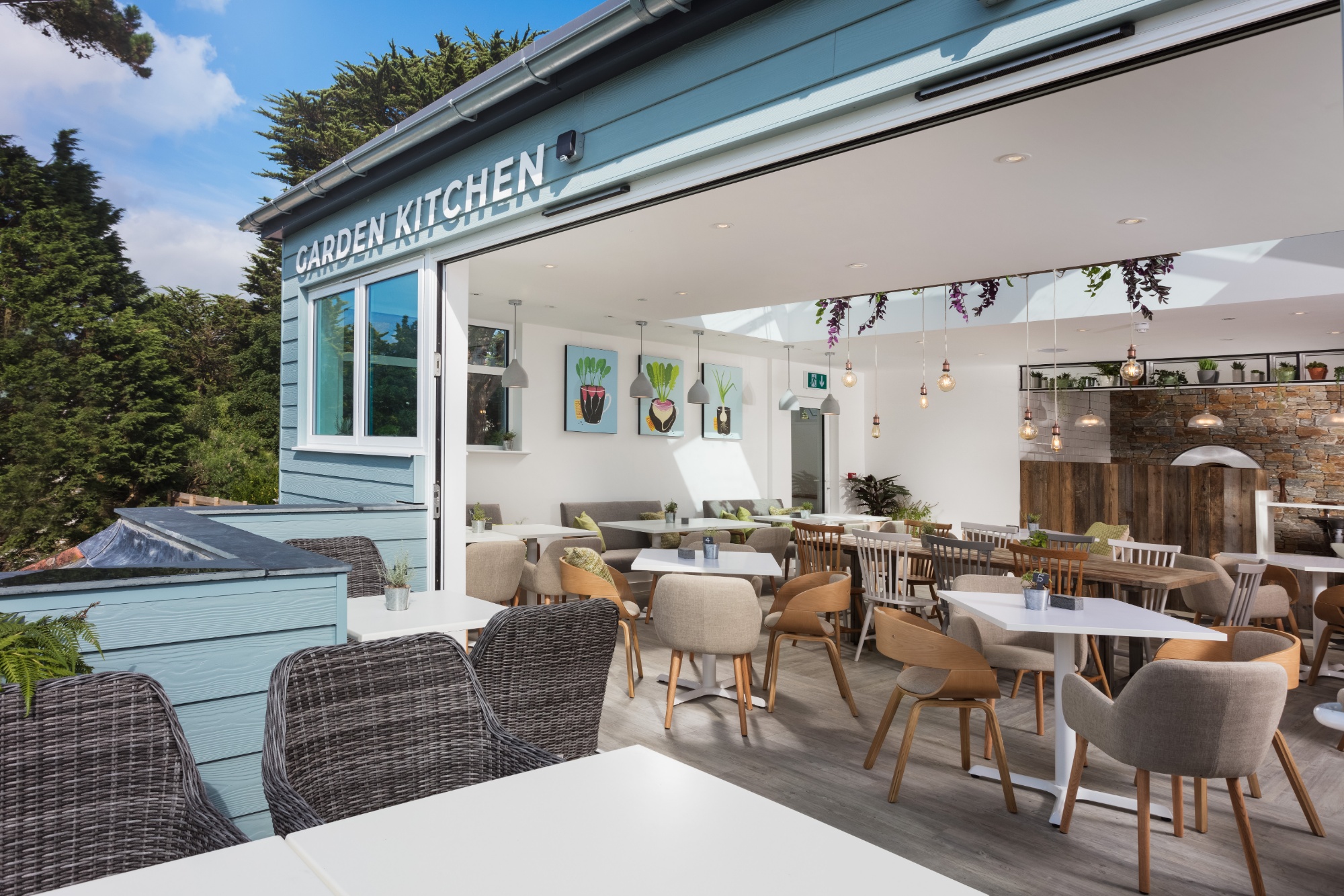 The South East of Cornwall is home to some of the most breathtaking strips of coastline and beach towns. All of the sites mentioned in this blog are worth a visit if you plan a trip to Cornwall. The beauty of Cornwall is that everything is relatively close together. Our best advice is to pick an area in Cornwall to base yourself in, and visit these locations throughout the trip!

You can read our ultimate guide to Cornwall here. In it, we break down each area of Cornwall so that you can select the region that best suits you to stay!