Our time in Dartmoor National Park was a surprise neither of us expected. We honestly didn't know much about it prior to our visit and we left speechless by its beauty and the surplus of wildlife within. In fact, Dartmoor National Park was George's favourite stop on our entire south-west road trip!
If you are looking to escape to nature, hike through some incredible stretches of the English countryside, or get up close and personal with wild animals, a visit to Dartmoor National Park is a must whilst in England.
There is so much to see and do in and around Dartmoor that you could easily spend 2-3 days exploring all that it has to offer.
Below is our guide on the top places we recommend you visit during your time in Dartmoor. Whether you stop off for a few hours or plan on staying for a few days, this guide will help you to pick the noteworthy places to see during your visit.
The Tors of Dartmoor
Dartmoor is most commonly known for its tors. If you don't know what a tor is, don't worry neither did we. Essentially, tors are dramatic granite rock formations. These formations are located atop various hills spread throughout the National Park.
Dartmoor National Park is home to over 160 tors, each unique in their own way. Prior to your visit, you can look them up to see which ones you would like to visit. Be ready with your hiking shoes as many of them require you to park up and walk in order to reach them!
Below are a few that we suggest you visit!
Haytor
One of the more popular tors, Haytor is worth a visit as the visitors centre is located there. It is a great first stop and tor to explore on your visit to Dartmoor. Located on the south-eastern edge of the moor, this tor has sweeping views of Dartmoor National park and the south coast of Devon on a clear day!
Black Tor
This tor has impressive views of the West Okement valley. It is a great place to hike for sunset as the sun glows over the fields once at the top. Just below the tor is plenty of moss and woodland. It's a wonderful tor to visit for the oak woodland and fairytale-like feel.
Leather Tor
Arguably the tor with the best view around! Leather Tor has a beautiful view of the Burrator Reservoir below a sight to behold especially during sundown.
Brent Tor & Brentor Church
This tor is made out of basaltic lava making it unique among the rest. However, the most famous part of this tor is the Church of St Michael de Rupe, known as the Brentor Chruchurst at the top. There is a car park located close by so this tor is a great one to explore during your visit.
Great Staple Tor
Probably the most photographed tor in Dartmoor, the Great Staple Tor has a great massive stack of stones on top of the hill. Easily accessed with parking just below, this tor is a must stop. There is a reason why it holds the name 'great staple,' as it's truly a staple in the moor.
Bowermans Nose
One of the most notable tors is Bowerman's Nose. It is the most recognizable by the giant stones stacked to look like a man and his nose. The tor has many tales and even inspired one of the most well-known legends of Dartmoor, Bowerman the Hunter.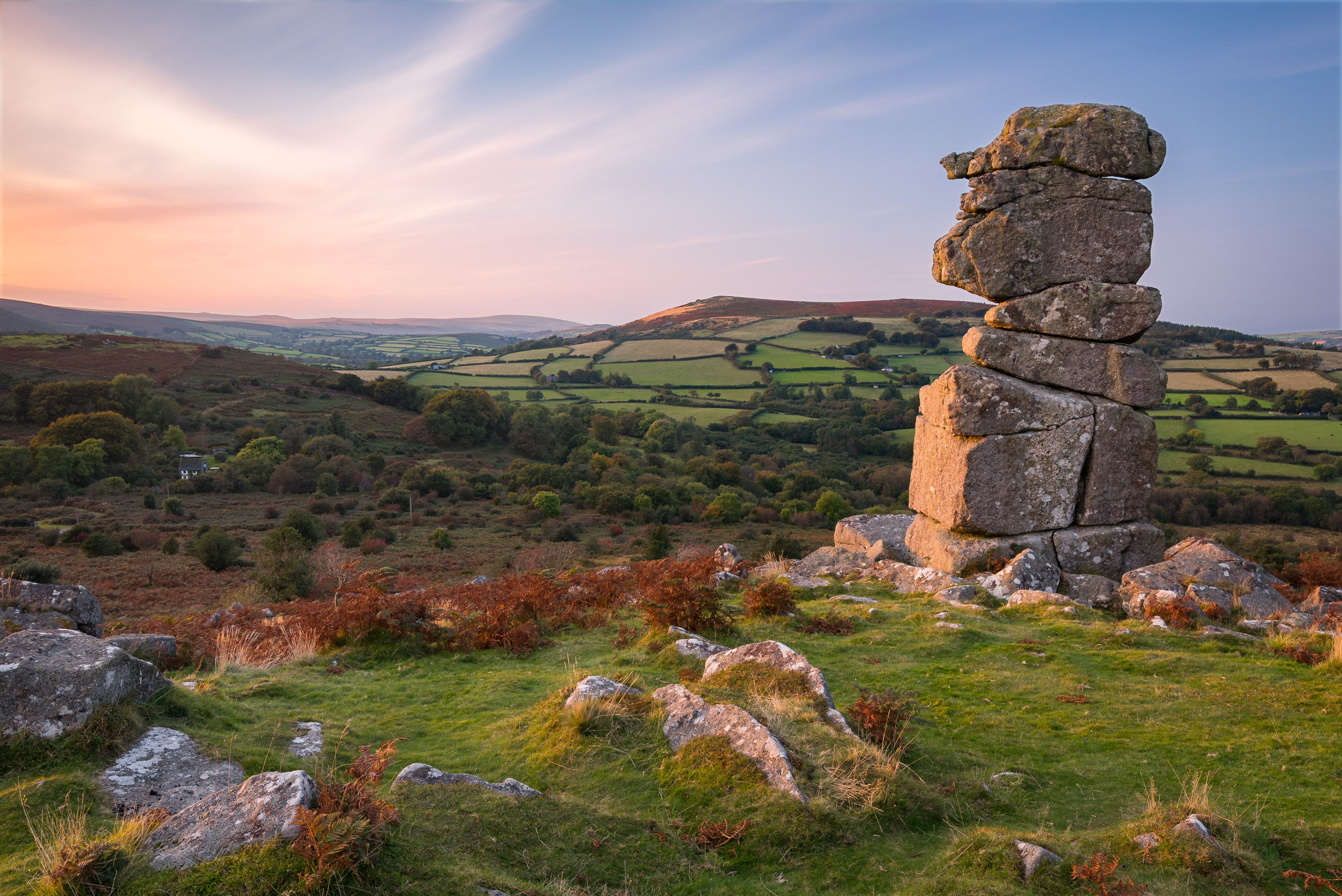 As the story goes, Bowerman was a huntsman who lived on the moor and while chasing a hare, he disrupted a group of witches during a ceremony. They decided to punish him by turning him into a stack of granite rocks. Thus, the rocks were to resemble him!
Postbridge Clapper Bridge
This little clapper bridge dates back to the middle ages and is a historic stop whilst in Dartmoor. It's easily accessible, as visitors can park alongside the road and walk to it in only a short amount of time. The bridge is a beautiful sight to behold. With a lovely river down the middle, you will feel extremely peaceful in nature.
Widecombe-in-the-Moor
Widecombe-in-the- Moor is a quaint village in the centre of Dartmoor. It is a wonderful place to stop off for a bite to eat and shop. There are plenty of pubs, cafes, and local stores to explore. We stopped off here mid-day for lunch and also explored the beautiful St Pancras Church.
Lustleigh
Lustleigh is another adorable village in the middle of Dartmoor National park. With dozens of thatched roofs, tiny alleyways, and lush green woodland this village is known as the prettiest village in Dartmoor and it's easy to see why.
Bellever Forest
Bellever Forest is a stunning forest in Dartmoor. The towering trees go on for miles and it is a great place to take a walk. There is parking within the forest and it makes for a wonderful setting for a picnic. You can sit along the river and take in all the views. We sat here in the afternoon for a few hours to relax and even had wild ponies come up to us next to the river. Walking through this forest will make you feel like you're living in a fairytale.
Meldon Reservoir
This is a wonderful reservoir to go for a stroll and take in all the wonderful views of the national park. It is popular among families and nature lovers. It is a wonderful place for cycling and fishing as well.
Venford Falls
Although we didn't visit these falls ourselves we heard that this was the secret waterfall of Dartmoor. From the photos we saw, this waterfall looks like it belongs in the middle of the tropics. If you are a fan of waterfalls and hiking, definitely be sure to check these hidden falls out!
Wild Animals
One thing that blew us away about Dartmoor National Park was the wide variety of wildlife in and around the park. With so much land, these animals have free range to explore. We saw everything from wild ponies, to sheep, goats, and even highland cows. It was almost as wonderful as visiting the zoo! If you are a fan of animals, Dartmoor National Park is the place for you.
What makes Dartmoor so beautiful is the endless amount of wildlife and nature. If you are in need of some time outdoors and you are travelling around the UK, definitely carve out some time in your schedule to visit. We were blown away by the beauty of Dartmoor and thoroughly enjoyed our 2 days there.
So we hope that you have enjoyed our blog – The Best Things to do in Dartmoor National Park. For more blogs like this be sure Click Here.