The Cotswolds is quintessential England at its finest! Picture small villages, thatched-roofed homes, unique farm shops where the locals go to buy their daily produce, and endless amounts of land. This is our Cotswolds Travel Guide.
Stretching across the counties of Somerset, Oxfordshire, Gloucestershire, Warwickshire, Wiltshire, and Worcestershire, the Costwolds is the ideal weekend getaway in the UK.
Perhaps what makes the Cotswolds so fantastic is that no matter what season, or time of year you choose to visit, the beauty of the villages are never compromised. You can admire the stunning gardens in the Spring, or cuddle up in a cosy pub in the Fall. You may even have a run in one of the many A-listers that live tucked away in the hills of the Cotswolds.
Over the years we have visited the Cotswolds many times and with each visit, we fall more and more in love with the area. So much so, that we actually see ourselves living there permanently one day.
Below is our ultimate guide to the Cotswolds. We have included all of our favourite villages and must-sees from our travels there over the years. We hope you enjoy it!
Getting There
The best way to get to the Cotswolds is by car. You can either rent a car if you are visiting the UK, or take your own. It is about a 2-hour drive away from central London and there are many scenic routes you can take along the way.
Villages
For all villages in the Cotswolds, we suggest that you plan to spend roughly 1-2 hours per village. Some are smaller than others with fewer shops and can easily be seen in 45 minutes. Below, we have shared some of our favourite villages that we have visited over the years.
Castle Combe
Castle Combe is one of the most iconic villages in the Cotswolds. Located in the middle of lush woodland hills, this beautiful village is a must-visit on your trip. With a population of only 350, it takes the words 'small' and 'quaint' to a whole other level. However, despite being on the smaller side, it is absolutely stunning! With a river flowing through the middle of the town and the infamous bridge, you definitely need to stop off here for a few minutes to take in its charm.
You probably only need about 45 minutes to see Castle Combe. There are only a few restaurants, a church, and a hotel in the centre of town. We recommend booking in tea, or lunch at the beautiful Manor House Hotel if you have time.
TIP: If you want to visit Castle Combe, we suggest you visit early in the morning and avoid weekends as it tends to get very busy during the day.
Bibury
Bibury just might be our favourite of all the villages! In fact, artist William Morris has described Bibury as, 'the most beautiful village in England,' and we would have to agree! It is just so peaceful and charming. Arlington Row is a famous row of weavers cottages,' overlooking the water and picturesque scenery.
If you visit Bibury check out the trout farm there, or grab a bite to eat at The Swan Hotel!
Burton on the Water
In terms of size, Burton on the Water definitely has a lot more going on! Plenty of artisan shops, restaurants, and boutiques this is a beautiful place to walk around especially if you happen to be there during the holidays! Known as the 'Venice of the Cotsowlds' this village is built around the river with multiple stone bridges connecting each side of the street.
The Slaughters (Upper & Lower)
Upper and Lower Slaughter are two stunning Cotswold villages that are built on the River Eye. With the river flowing through the centre, it is a really pretty place to take a walk. Although a bit more of a residential part of the Cotswolds, the Slaughters still make for a great area to walk through if you have the time.
Stow-On-The-Wold
A bit on the bigger side, Stow-On-The-Wold is the perfect village to visit for shopping, artisan stores, tea, and even coffee! We really enjoyed exploring the cobblestone streets of Stow-On-The-Wold! If you visit, be sure to stop by St Edwards Church and look for the door in the trees, it's so beautiful!
Chipping Campden
Located at the northern tip of the Cotswolds, Chipping Campden is a less crowded village that also has many local shops and restaurants. Chipping Campden has a lot of historic significance as well! Back in the 7th century, the village was known to be the market place where citizens would come to trade wool and other goods.
Burford
Burford is home to a busy high street, once again, with plenty of food and shopping around. They also have great bookstores and fun shops to pop into if you are looking for more activity, Burford is the village for you!  The Cotswolds cheese co is a must!
Things to Do
Daylesford
A delicious award-winning organic farm that is an absolute must-visit on your trip to the Cotswolds. There are multiple Daylesford locations spread across the UK, but the original organic farm is located in Gloucestershire. 
You can have a stroll through their indoor market which is home to a surplus of local organic produce, fresh fruit, vegetables, a cheese room, cured meats, wines, jams, bread, eggs, and even pastries. You can also dine in one of their many restaurants, or book in a treatment at the spa. They also have a large garden and area to walk around the farm to admire the animals.
St Edwards Church
This stunning church is located in the centre of Stow-On-The-Wold village. Famous for the wooden door between the trees, this spot has become quite the popular place to snap a photo thanks to social media!
Blenheim Palace
Blenheim Palace is a beautiful country estate located in Woodstock, Oxfordshire. The house was built in the 18th century and was the birthplace of Winston Churchill. Placed on a 2000 acre lot, there is a ton to see and do. With the Italian garden own by duke brown to the lake and tower of victory. 
For those that want to see what wonders this beautiful house contains, there are tickets available for several tours through different parts of the estate. This is definitely worth doing in our opinion. See here for tickets and tours.
Broadway Tower & Deer Park
One of our most favourite stops in the Cotswolds would be Broadway tower and deer park. This iconic landmark is a blast to go and visit, with beautiful scenery, amazing views and a deer park, there are lots to see and do. 
Stroud Farmers Market
During our time exploring the Cotswolds, we found a beautiful farmers market in the wonderful town of Stroud. We were pleasantly surprised by the abundance of stalls and a variety of items on offer. From cheeses to burgers and antiques to furniture, this was a treat to walk around. Taking place on Saturdays with ampul parking and exploration, it's a great place to visit. 
If you're heading to the Cotswolds then you will definitely be heading to Bibury. Probably the most idyllic town in the Cotswolds, Bibury has a lot to offer. One of the places you should check out whilst there is the Bibury Trout Farm. With cheap admission fees, it's definitely worth the price to walk around and take in the beautiful water views the trout farm has to offer. Additionally, there is a wonderful farm shop and cafe located just at the entrance. So if you are craving something to eat then this is a great option.
Wine Tasting at Woodchester Valley Vineyard
Woodchester Valley Vineyard is a family-owned boutique vineyard, famous for its award-winning Cotswolds wine. Guests can come and enjoy wine tasting tours of the vineyard and have the opportunity to see, taste, smell and learn all about the incredible wines at the vineyard. If you are looking for a fun romantic activity to do with either your partner or friends definitely be sure to check out their tours online for an unforgettable experience!
Hidcote Manor Garden
Hidcote Manor Garden is a great place to go during certain seasons. With beautiful flowers and bulbs during the spring and wonderful autumn colours during fall. Be sure to book tickets beforehand as they can be fully booked often.
Westonbirt Arboretum
Sadly we never got to visit the Westonbirt Arboretum as it was fully booked during our visit in the Cotswolds and due to the pandemic visitors have to book ahead of time. However, this was by far one of our most anticipated places to visit, especially during the fall. We are always ones to take nature walks and bask in nature, so missing out was a big one for us. But if any of you get to go be sure to tag us and let us know how it went! 
Where to Eat
One of our top recommendations for places to eat would have to be the Chequers Churchill. Saying it is a great place to eat and drink would be an understatement. With a great atmosphere and beautiful food to match, The Chequers makes the perfect place to grab a bite to eat. With candlelit tables, we were treated to a wonderful dinner of steak and the seafood pasta. The meals are large and great value for money and definitely didn't fall short on taste. This was one of our favourite meals in the Cotswolds, so if you're in the area be sure to book a table.
The Wheatsheaf Restaurant and Inn is a 17th-century pub with beautiful open lit fires and cosy atmosphere. With an incredible menu, pizza oven and great wine list there is definitely something for everyone at The Wheatsheaf Inn.
The Stump Pub is hands down one of our favourite restaurants in the Cotswolds! With an Italian inspired menu, this place's speciality is their pizza. They make their pizza in traditional fire oven and we can honestly say it was some of the best pizza we have had in a long time. If you are in the mood for pizza, pasta, or craft beer, make sure you stop into this incredible place! Not only is the food amazing, but the interior of The Stump was also beautiful. With open lit fires, nice indoor-outdoor seating arrangements and friendly staff, this place will not disappoint!
If you are in Stow-On-The-Wold and happen to be craving a cosy, English tea, pop into Lucy's Tea Room. Small, cosy and quintessentially British, they have a wonderful tea that will make you feel like you are at home.
We stopped off at The Kingham Plough for a late lunch one afternoon and we were totally impressed with the beautiful interior and delicious menu. If you are looking for a classically stunning pub in the Cotswolds, definitely book in a lunch, or dinner at The Kingham Plough.
This place was voted as Britain's best new delicatessen in 2007 at the British Cheese Awards! With dozens of varieties of cheeses, deli meats, olives, and chutney's this shop is the best place to stop if you fancy making an incredible cheese board. They have a total of 3 locations in the Cotswolds, so depending on your route we suggest you stop into this incredible cheese shop if you have the time!
Where to Stay
The perfect home away from home and the most incredible stay in the Cotswolds, we could not recommend this hotel more!
This five-star private manor house is located amidst some of the prettiest rolling hills the Cotswolds has to offer. Not only is the location prime, the ambience, and vibe of this hotel is unlike anything we had ever experienced before. From the moment you step foot onto the property, everything revolves around you! You are made to feel right at home and can quite literally get anything you want to brought straight to your doorstep. Fancy eating dinner in your room? Great, the staff can easily set up a stunning table and chairs so you can eat within the comfort of your room. Don't know what to eat? Not a problem! The head chef at the hotel will cook you practically anything you can think of! There is so much character and charm throughout this hotel. With eight stunningly beautiful suites, you are guaranteed privacy and relaxation if you choose to stay here!
Just up the hill from Foxhill Manor is the equally stunning Dormy House. Picture the ideal rural retreat! With log fires, beautiful stone fireplaces, exquisite dining rooms, comfortable sitting spaces, and a full-service spa the Dormy House is pure comfort in the Cotswold countryside.
If you fancy a bit of adventure and enjoy staying in a more unique setting, check out The Fish. At The Fish you can take a stroll through the beautiful 400- acre private estate and even have the chance to bathe in one of their stunning outdoor hot tubs. Whether you fancy staying in a more traditional suite room or are interested in the unique treehouse and hut accommodation there is something for everyone!
The Manor House is one of the only hotels located in the centre of Castle Combe. With beautiful rooms, large gardens, decadent restaurants and even a golf course, this is a luxury stay at its finest. This grand manor estate dates back to the 14th century and is the definition of elegance. If you are looking for a more upscale stay, definitely check them out!
The Swan Hotel in Bibury is located in the middle of the most charming village in the Cotswolds. With the trout farm and river at the doorstep, The Swan Hotel is the perfect getaway for couples and families looking to be in the heart of the action.
A 17th- century manor house located in Lower Slaughter. This beautiful estate has contemporary rooms along with a great restaurant for guests to enjoy.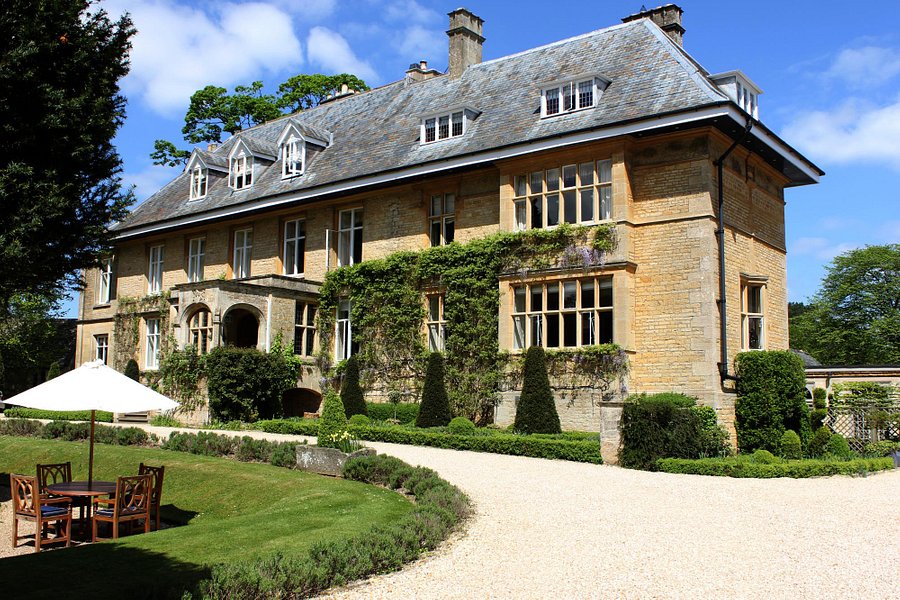 For more blogs on places to go be sure to check out our recent guides here.